Digital consulting for the global healthcare industry
In an increasingly pressurized and complex healthcare space, digital is essential for scaling operations and automating manual tasks and processes.
Work with us
We help organizations across the healthcare industry design, develop, and deliver user-centric services that exceed our modern digital expectations.
When you're looking to better your patient experience, increase operational efficiency, and harness the digital to build integrated care systems, we are in the business of turning your challenges into category-defining digital solutions.
The solutions we build are tailored to solve the most incapacitating of your challenges, always designed, built, and scaled by the best digital talent on the planet.
Transform patient interactions
Take full ownership of the patient interface
Draw on patient data
Create robust telehealth services
Increase care effectiveness
Support and streamline existing workflows
Build tools that provide higher-quality care
Maximize operational efficiency
Digitize customer and provider touchpoints
Automate prioritization of tasks
Build intuitive patient care tools
Seamless integration
We believe that digital solutions should ease and support, not burden or frustrate.
Our goal is to build digital tools that have real longevity and fit seamlessly into customers, nurses, and doctors' everyday lives.
Fast delivery
Our trademarked library of unique design and technology components significantly speeds up the delivery of new digital services. We get working software up and running fast.
Agile approach
We build on an experimental, agile basis. That means we continuously test new ideas and can support quick enhancements, addressing requirements and new opportunities as they come up.
Flexible outcomes
Instead of instigating a costly – and often unnecessary – overhaul of your existing IT infrastructure, we build on and integrate into the core technologies you already use. Your organization has control over the software's entire evolution and lifecycle, including any necessary enhancements and customizations.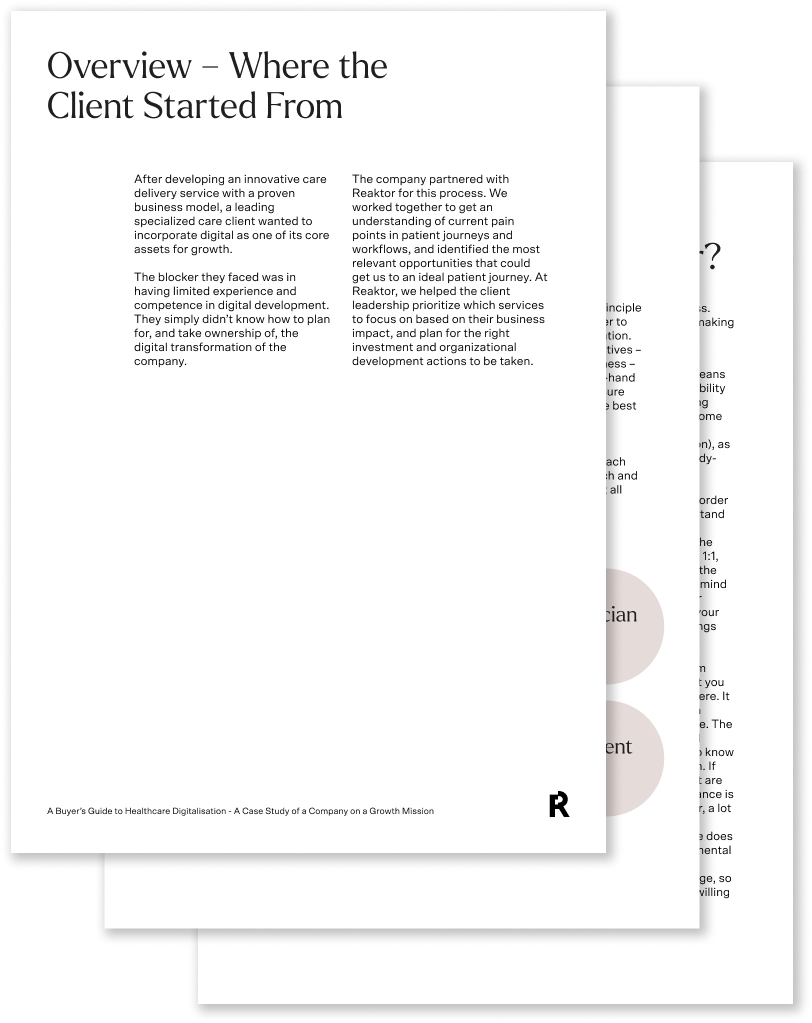 A Buyer's Guide to Healthcare Digitalisation
What it really means to buy custom software or off-the-shelf digital products in healthcare? Having partnered with hundreds of ambitious organizations across industries to build category-defining digital services, we want to shed light on some of the key questions and benefits each company should consider when making these decisions.
Read more about our successes in the field
"You can tell that these systems are built by someone who doesn't do the actual work."
- Preventive care nurse, Finland
Reaktor surveyed nurses across Europe to ask about their organizations' IT systems. The results were eye-opening. While the end users' needs are being ignored, communication is lost, time is wasted, and lives are put in danger. The good news? This is a problem that can be fixed. Download to read the full report.